Rapid turnaround for Caterpillar's urgent part requirement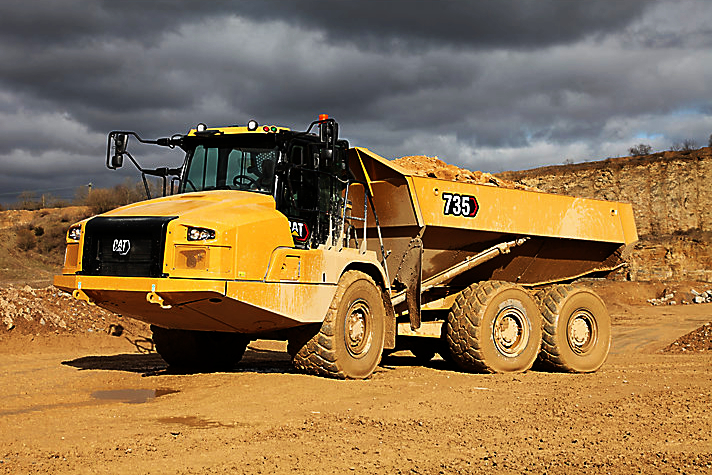 Due to unfortunate and unforeseen circumstances, Caterpillar were placed in a situation where they were unable to procure parts for their three axle articulated vehicles from their incumbent supplier.  This was to the point where, if the parts were not sourced, their production line would stop and customer's orders would be delayed, significantly.
Answering the call for one of the crucial parts, Broadwater's engineers were able to swiftly produce a six-impression tool for their press facility.  By implementing the press, over say hand lamination or spray-layup, Broadwater are able to produce 120 parts per day at full capacity, as opposed to one part, per tool, per day.
Vince Mortlock, Technical Director for Broadwater Mouldings said "Opportunities to supply customers like Caterpillar do not come very often and I am excited to be working with them on this project.  Our team worked hard to get the tool produced and ready for production in under 2 weeks – plus we had the Christmas break in between.  This is an amazing turnaround and I have the Production Engineering team to thank whole heartedly for that. I'm glad that Broadwater's services were able to solve the problem quickly, so Caterpillar's production could continue without delay."
As the part was originally vacuum formed, it was supplied as moulded.  This presents a challenge to FRP manufacturers as the A surface has to be flawless, and for the most part would require painting.  However, Broadwater's part has been provided with an as moulded, colour matched finish, negating the need for painting and providing the tough, durable finish that these vehicles demand.
Vince went on to say "Since January, I am pleased to say that we have delivered over 1000 finished parts to Caterpillar, which means over 1000 vehicles will get commissioned in time.  I'm glad that we were able to help in the most unfortunate of circumstances and very much look forward to future business with Caterpillar."