Broadwater Joins PlastikCity to Assist Service Expansion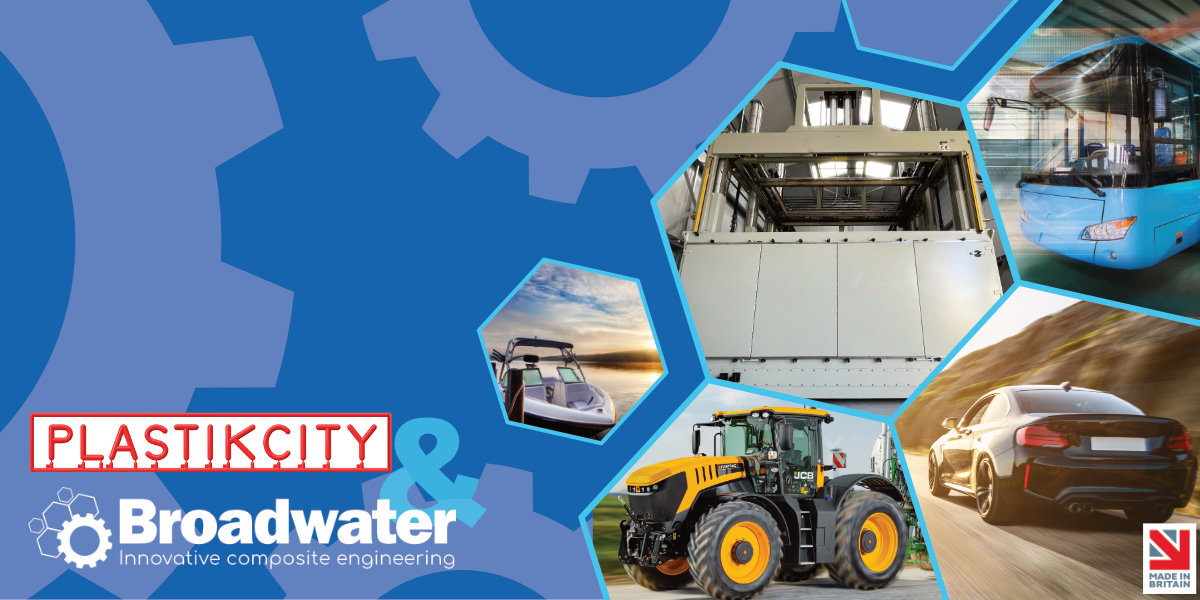 Broadwater Joins PlastikCity to Assist Service Expansion
Leading composite engineering specialist Broadwater Mouldings recently expanded its offering to include a thermoforming service to complement its wide range of existing manufacturing processes. The company recently partnered with procurement platform PlastikCity to promote this new service to the market.
Enjoying over 10 years in the plastics industry, PlastikCity has been harmoniously connecting suppliers, buyers, customers and manufacturers all in one networking space. Far from being a directory, PlastikCity work with only selected clientele to ensure quality service, products and pricing, all with no commissions, hidden charges or catches.
PlastikCity, founded by Carl Futcher, offers areas for a client to source quotations from multiple companies simultaneously, provides space for job listings, selling surplus machinery and material stock as well as providing companies with a marketing arm to reach new customers, via sister company PlastikMedia.
Carl Futcher, MD for PlastikCity said, "I started PlastikCity in 2012 with the aim of providing the industry with a modern digital platform to network and promote their abilities.  We now partner with over 260 companies and provide our site visitors an interactive platform to communicate with these excellent suppliers. We have also created the busiest job portal within our industry to ensure companies can find the right skills and support the industry with a variety of secondary services."
Having recently invested £250k on a Thermoforming machine, Suffolk-based Broadwater Mouldings Ltd turned to PlastikCity in order to tap into the thermoforming and vacuum forming market. Trading for nearly 50 years in the FRP (fibre-reinforced plastic) industry, Broadwater has been offering a custom tooling and moulding service and applied this extensive experience in order to expand its service offering.
Colin Tompkins, Marketing Coordinator for Broadwater, said, "I started with Broadwater in 2019 having spent 11 years in the Masterbatch sector. I worked closely with Carl and the team in my previous role assisting the creation of their Masterbatch section and later the Rotational Moulding section, so it was second nature for me to bring Broadwater to the table."
Carl Futcher and Will Clarke, Partnerships Manager for PlastikCity, visited Broadwater's Beccles site to explore the company's products, processes and services. Whilst discussing the avenues the thermoforming section could provide, it transpired that PlastikCity had been working on an FRP mouldings section, which had stalled due to unforeseen circumstances. Broadwater offered its expertise and industry knowledge to help re-ignite this section and expand the network even further.
Will Clarke added: "We're always looking to expand the coverage of the PlastikCity website, adding an additive manufacturing 'super section' a couple of years ago, and now we're venturing into the world of composite manufacturing. Starting a new section for the business is always exciting, as is welcoming new members. When a new industry segment is introduced, it opens so many doors to new suppliers, new relationships and new opportunities. It is by no means insignificant, and I appreciate the time and effort Broadwater has given to allow us to make this possible, specifically the help and guidance of Broadwater's Colin Tompkins and Vince Mortlock."
Broadwater will be joining PlastikCity on its pavilion, stand A40, at the Interplas exhibition on 26th-28th September at the Birmingham NEC. Broadwater will be showcasing all aspects of the business on stand A40D and would welcome any visitors looking to discuss thermoforming, vacuum forming or composite manufacturing services.